There are so many parts involved in moving, whether interstate or overseas, and each seems more time consuming than the last. Removalists can help you take away the stress and hassle of helping you move your treasured belongings from one place to another, but there are a certain steps you should consider before they show up to help you pack. At Overseas Packers & Shippers, we've been moving families, individuals and couples across the globe for over 40 years, so we have a few tricks up our sleeve to help you prepare as much as you can before the big day. We're sharing our top 4 tips on how to prepare your home for removalists to make your next moving day as smooth as possible.
Prepare Furniture for Your Home Removalists
For the safety of our removalists and your furniture, large pieces of furniture such as beds and tables should be disassembled and packed flat, if possible, to make it easier and more convenient for removalists to transport it from place to place. Removalists can help by dismantling some basic pieces of furniture on the day, however more complex pieces of furniture should be dismantled in advance – just be sure to keep hold of all the screws, bolts, and assembly equipment so you can reassemble it at your new place
Organise Your Light and Heavy Items
Weight is one of the major factors you have to consider when packing, as boxes that have been packed irresponsible can damage items, ruin the box, and cause injury to those lifting it. Light items should be packed together in large boxes and containers, while heavier items should go in smaller boxes and containers. This provides a more balanced distribution of weight amongst the boxes that will reduce risk and provide greater safety to the items themselves. If light and heavy objects need to be packed together, always place the heavier items at the bottom so they don't accidentally squash anything below them.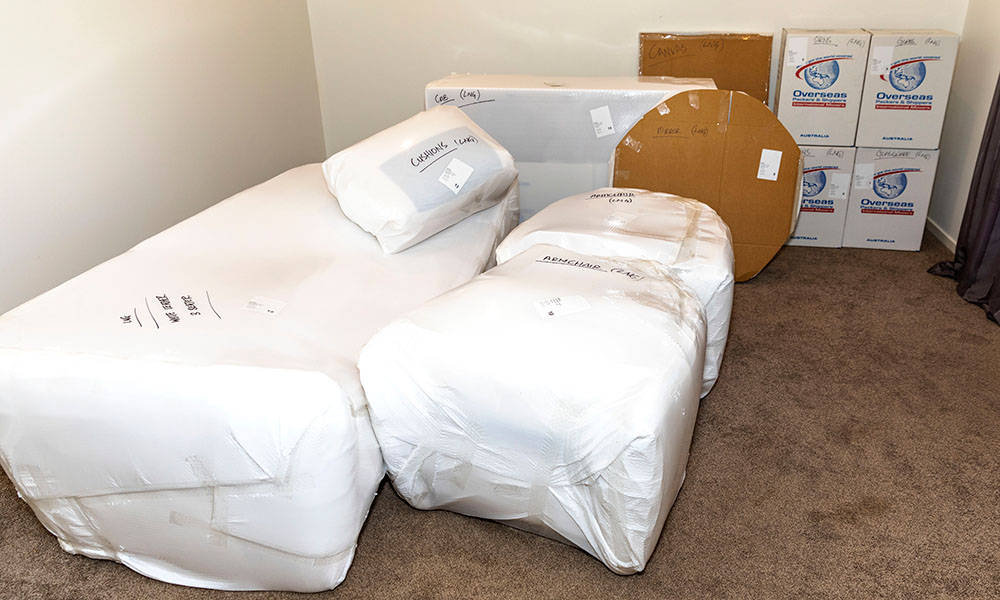 Label Your Packing
A Overseas Packers & Shippers, we help you pack your belongings at part of our removal service to ensure everything is packed as safely as possible; however, if you do plan on packing yourself there are a few tips to keep your belongings organised and in good shape. Always make sure you have a marker handy when packing boxes, containers, and bags to label with their contents and what room they belong in. Additional information like whether or not a box contains "Fragile" or "Heavy" items can also be included. This helps removalists understand where and how boxes should be packed at your old property and unpacked once they reach your new one.
Defrost Your Fridge
Preparing your fridge effectively for removalists is one of the most important steps you can take. In order to this correctly, you'll need to follow these steps:
Empty your fridge of any food that is still currently in there. It's your choice whether you decide to eat it all, dispose of it, or offer to family and friends.
Remove and clean any shelves and drawers that are inside the fridge.
Begin defrosting the fridge by removing the power chord and placing a tray, towels and/or newspaper at the base of the fridge to collect any leaking water.
Remove any ice that has built up inside the fridge from outside moisture by carefully chipping away at it with kitchen tools like a spatula.
Clean out the interior of the fridge and allow it time to dry in time for the removalists.
If you are transporting your fridge via container, we recommend putting your excess toilet rolls inside after it has dried. This will assist in eliminating mould build up during long sea trips.
Prepare Your Home for Overseas Packers & Shippers
At Overseas Packers & Shippers, we always aim to provide the best quality removalist services for those who are looking to move their precious belongings to a new location. To find out more about how our team of experienced removalists can help make your move as stress-free as possible, reach out to one of friendly team members at 1300 732 686 or email us at visitus@overseaspackers.com.au.