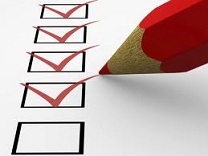 Whether you're moving for the first time or the eighth, across the country or down the street, there are a few things you can do to simplify your task. Many people don't know that moving is one of the top stressors we experience. Avoiding an organizational nightmare can help you steer clear of unnecessary headaches.
Don't wait until the last minute or even the last few weeks before the moving truck arrives. If you're renting a truck, research your options ahead of time. Invest in packing tape, a tape gun, packing paper or old newspapers, and a starter pack of boxes. I've found that medium boxes are the ones most used. If you move often, consider investing in some sturdy totes or permanent cases. They can be used for additional storage once you've moved, and are good for books and fragile items.
Pack the least essential items first. Also, be sure to put like items together – books, clothes, or kitchen items. If you're moving a house full of furniture, pack pillows and blankets in your china cabinet to protect the glass front. As you go, label your boxes with rooms or numbers that correspond to a manifest. I've moved often enough that a list of what goes in which box is worth the trouble. It makes unpacking much easier and can be jotted onto a master list.
Pack your more delicate items with care. A little bubble wrap is a good investment and can be fun to play with once you've unpacked. As you load the truck, you'll be glad you did it if you or the moving crew have any accidents. Lastly, as you pack, be sure every item is clean. That way you aren't taking dirt with you into your new home.
Friends and neighbors always want to help, so why not let them? Clean and group items together and lay out packing materials. Then, throw a pizza party with paper plates. This can be done on one of your last days before moving, when things like china, cutlery,and other essentials are all that remain. In this way, you can allow others to help without hectic supervision, and enjoy a last visit in your old home. Pack smarter, not harder.