The results are in for the most livable cities in 2014, and Melbourne has held it's position at number one for the fourth year running. Since 2012, the same cities have dominated the top 10, but this year we saw Adelaide sneak ahead of Calgary (previously tied 5th). Here's our summary of the favourable cities.

Coming in at #1, we have Melbourne – possibly one of the most raved about cities in Australia. Although it's notorious for 4 season days, the city boasts a rich culture, vibrant nightlife and plenty of sport. Some of the top things to do in Melbourne include visiting Luna Park, exploring the street art in the laneways, strolling the St Kilda Esplanade and checking out the rooftop bar scene.

Vienna is the largest city in Austria and is known as the cultural capital of Europe. Living in the city is the best way to explore and experience this charming metropolis. If you are planning a shorter visit you might like to have a look at Lonely Planet's top things to do in Vienna guide.

While this coastal city is known for its temperate climates in winter, Vancouver is also surrounded by snow-covered slopes and breath-taking views. Once you are finished gazing at the view there is plenty to see and do. Popular activities include wine tours through the picturesque landscape, visiting the various cultural sites such as Stanley Park and the Art Gallery, heading down to Kitsilano Beach and taking a train ride to Whistler.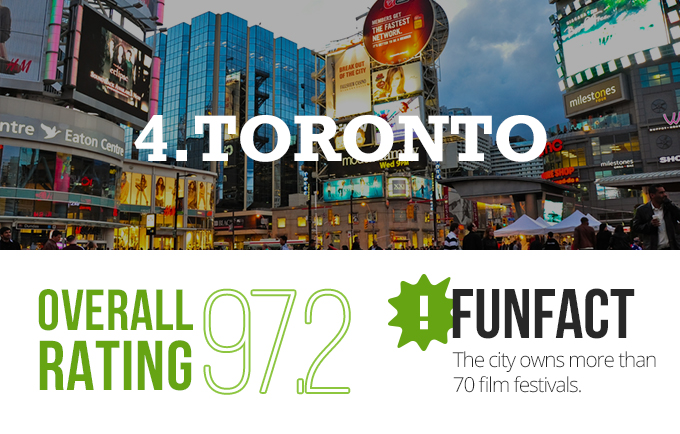 You certainly won't be lonely in Canada's most populous city. From relaxing cobble beaches to amusement parks, galleries and famous landmarks like Niagara Falls, there is something for everyone. Check out what Toronto's top travel bloggers have to share about the city in My Toronto.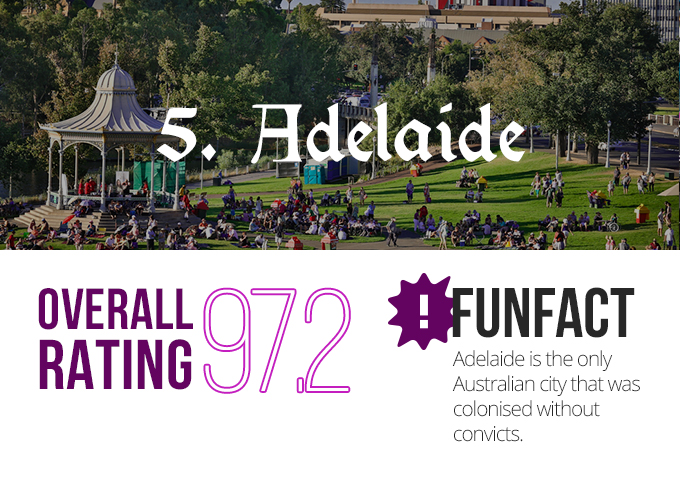 Adelaide has moved up this year to claim 5th position after tying with Calgary in 2012 and 2013. Also known as the 'City of Churches', Adelaide is known for its colonial architecture, lively music scene and fine wine and food culture. According to Lonely Planet, the city has 'transformed itself into the perfect host city. It has accumulated some of Australia's most popular sporting and arts events". If you plan on moving to Australia, you are certainly spoilt for choice.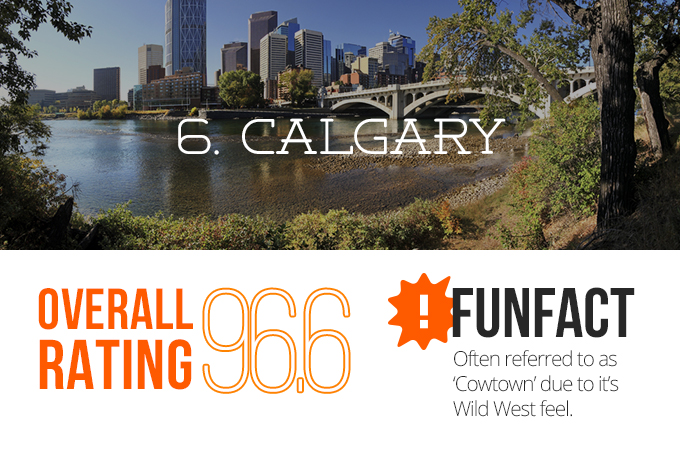 Living in Calgary opens up a world of geographic, cultural and lifestyle diversity. Whether you are a sports and outdoors type or you fancy live shows, nightlife and restaurants, Calgary has a lot to offer. For those who enjoy western flair, there's even an annual week-long rodeo and country music event. It's not hard to see why Trip Advisor describes the city as balancing 'the modern and the traditional with pioneer charm'. Learn more here.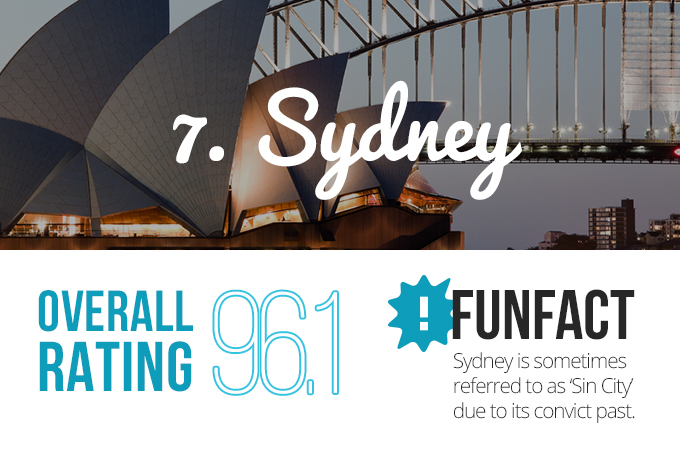 People overseas may not know much about Australia, but if you mention the Sydney Harbour Bridge, Bondi Beach or the Opera House, you might strike a chord of familiarity with them. Living in Sydney offers all the perks of city living with a side of incredible beaches. It's one of the most popular summer destinations and the most multicultural city in Australia (according ot the 2011 census, approximately 1.5 million of the Sydney population were born overseas.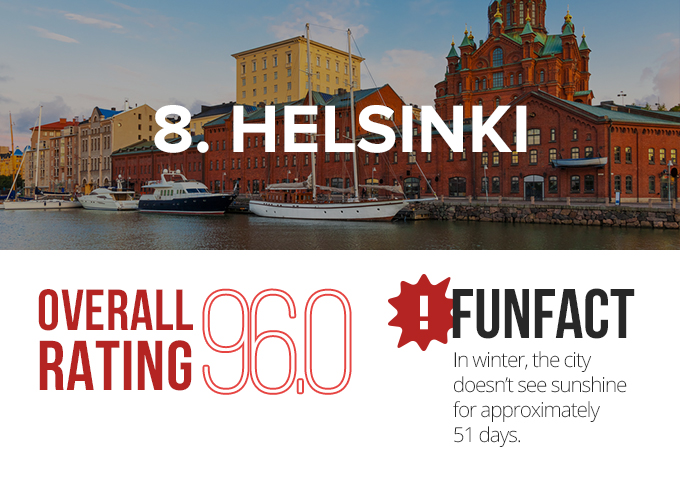 Expats living in Helsinki enjoy the close proxmity of a modern city centre with natural harbours, sceneries and mountains. Although it can get very cold in winter (for Australian standards anyway, -4°C), you have the freedom to walk almost anywhere without trouble. Find out what's happening in Helsinki on Visit Helsinki.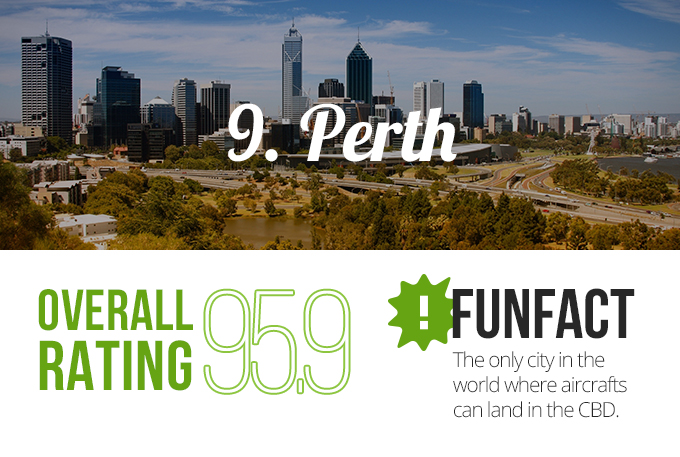 Perth is a gateway to city living, a pristine coastline and outback adventures. The city itself boasts a bustling night life balanced with a laid back lifestyle (not surpising considering the close proximity to 19 stunning white beaches).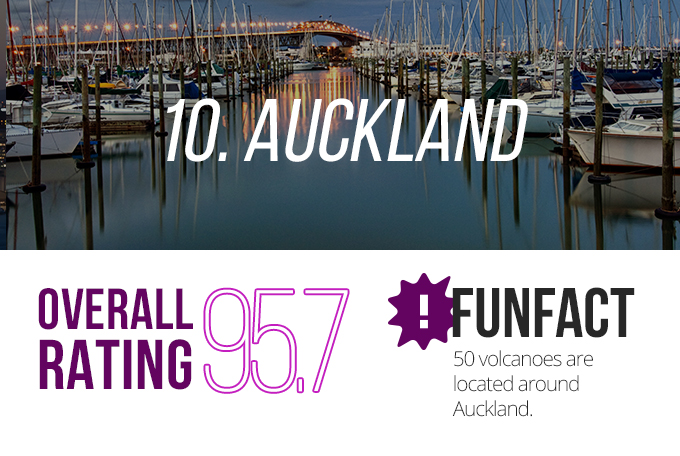 Finally, we have the 'city of sails'. From the turquoise waters of Auckland harbour to the bubbling springs of Rotorua, there's never a dull moment. If you are planning on moving to New Zealand from Australia, this city is a great place to start. The city itself is great to explore, with a range of art galleries, beautiful parks, cafes and restaurants. But perhaps the best part about living here is the close proximity to the natural wonders of New Zealand – from volcanoes, to picturesque bays and islands. Download our Moving to New Zealand Guide.
If you were to pick the most liveable cities in the world, what would you choose?