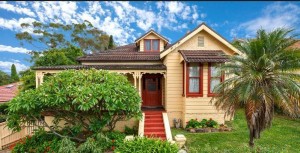 After living in America for 22 years, owning my own home, I was nervous to rent again in Sydney. In Sydney we had no credit history, no jobs, and no real income other than the occasional trickle from my freelance writing. Sydney is expensive. Adding to it, we were worried that no one would rent to us straight off the proverbial boat.
Undaunted, we started looking for a house before we moved. Makes sense right? Our plan was to find a house online, have my sister view it for us, we'd show the agents we had enough funds to cover the lease term and would then arrive to a roof over our heads. Fantastic!
Boy howdy, were we in for a surprise.
Either the real estate agencies ignored us all together, or informed us that since we were not physically in Australia, they could not, or would not assist us with our inquiries. Yikes! The ones that did respond told us that they no longer assisted people that could not view the property personally.  Apparently, showings to third parties had resulted in a lot of problems. That is, "proxy" representatives were accepting terms and conditions of the property, but when the actual renters arrived, they often refused to pay rent because they found the property unsatisfactory. Of course, they'd be happy to show us whatever is available upon our arrival.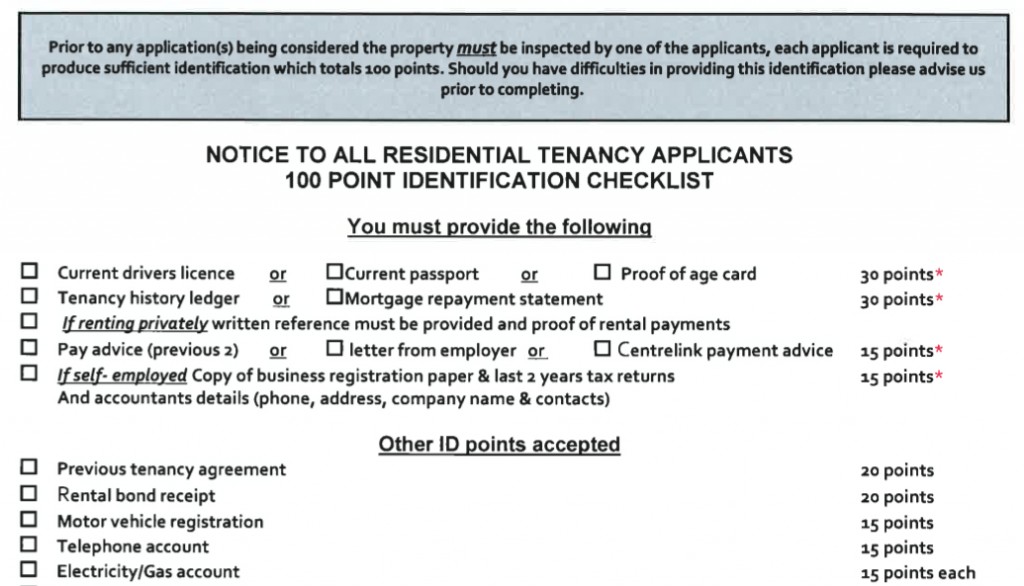 We had already shipped all of our belongings 10 days before. I had a two-week window to secure a rental property and to get my daughter enrolled in school once we arrived. No pressure. Yeah, I was freaking out. Reality hit that we were moving to the other side of the world without a place to live.
I took a deep, cleansing breath (with the aid of a delightful glass of Shiraz).
Plan B.  I decided we would be prepared to hit the ground running. I researched what we would need from a number of sites, written by people who, like us, had faced this process of moving from overseas. That is when I learned about the 100-point system.
Real estate agents require 100 points worth of personal ID for a rental application to be considered.  We only had two 'approved' documents on that list and they weren't making up 100 points on their own!  Time to get creative. We prepared an application pack that consisted of the following:
A cover letter, explaining who we were and our background.
Photocopies of our identification (birth certificates, passport)
A credit card with our name and signature on it.
References from past employers.
A reference from our Texas realtor, stating what condition our house was in when we sold it and what we were like to work with.
U.S. bank statements, showing proof of finances as we were in the process of transferring funds.
We were prepared.
A few days before we left the U.S., we found properties online we liked and wanted to inspect.  We were ready.
Then we experienced the Sydney rental process. 'Craziness' barely explains it. It is more harried and more intense than I've ever experienced in my life.  Agents set up an "inspection time", a 15 to 30 minute window for prospective renters to evaluate the property. At one property, there were about 30 people inspecting the house.  At another, there were 5 people, but the real estate agent was late, so we had 5 minutes to view the property.  We discovered later that agents have 15 minutes between viewings to get to the next property.  After a few viewings, we started expecting late inspections. I certainly don't envy their job.
We found one property we liked, out of the ten on our list. We submitted an application. While we waited for an answer, we inspected another property we found mid-week. We liked it as well and submitted an application for that one too, knowing competition was stiff and feeling pressure of our looming deadline.
We were homeless, awaiting the fates of the approval process. It was nerve-wracking.
We were accepted for both properties and were left to choose between them. Being prepared is a good thing.
Tara Marlow writes about her family's move from Texas to Sydney on her blog: www.fromdillostoroos.com