Moving abroad is no doubt a stressful process, especially when it comes to packing your belongings and deciding what's going to come with you on the journey, and what's going to stay behind. As a result, many people question when moving abroad whether to store, ship or trash their belongings.
At Overseas Packers & Shippers, we've been offering storage solutions and moving families, individuals and couples around the world for over 40 years. As we often get asked for advice and assistance to take the complicated part out of moving, we're sharing a guide on the benefits of each to help you decide whether you should store, ship or trash when moving abroad. 
Should I put my belongings in storage to move overseas?
Placing your belongings into storage while you move is undoubtably one of the simplest solutions that requires little consideration when sorting through your goods. Choosing to store your items means that you don't have to part with anything on short notice, allowing you time to consider what you want to keep and what you might want to discard of.
If you have emotional attachment to some belongings or have spent time collecting homewares that you wish to include in your new home at some stage, placing them into storage is a great option. Overseas Packers & Shippers offer short and long-term Brisbane storage options to keep your goods safe until you need them
Should I ship my belongings overseas when I move?
One of the most common options when moving overseas is to ship your items so that you can have everything with you on arrival. When it comes to shipping your belongings overseas, you can either send in a shipping container via cargo or in a plane via air freight.
Sending via air freight is the fastest option and is perfect for those needing their belongings in a short amount of time, however it is the most expensive option. Due to this, many of our customers choose sea shipping as their preference, with the option to choose between sending items in a full container load, groupage or less than container load.
Full Container Load (FCL)
A full container load means that your goods occupy an entire 20ft or 40ft shipping container, not sharing the space with anyone else. A 20ft container comfortably fits the contents of a 3-bedroom house, while a 40ft container is perfect for the contents of a larger home or a vehicle.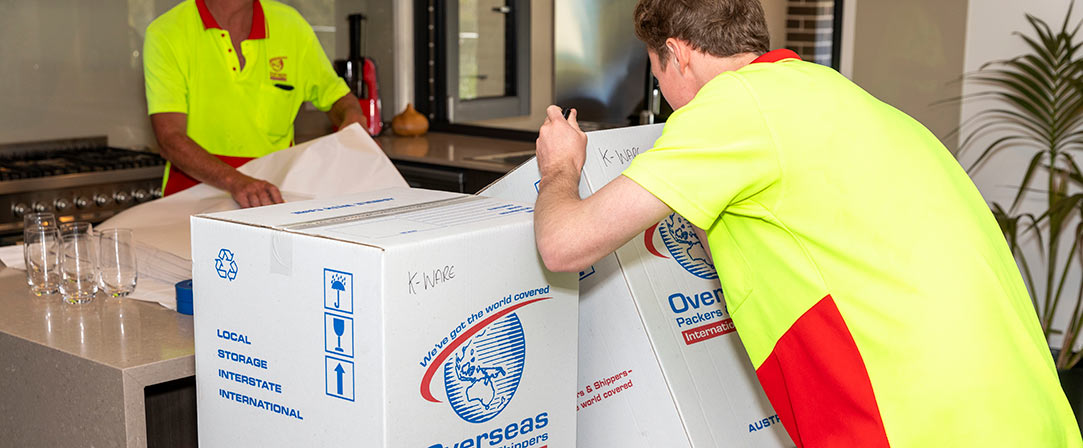 Groupage (Shared)
A budget friendly solution for those with fewer goods, groupage allows you to share the space of a shipping container with other people who are shipping goods to the same location. This is a perfect solution for people with smaller loads because you only pay for the space you take up in the shipping container. Keep in mind that groupage is not offered in for every destination country.
Less than Container Load (LCL)
Less than container load is another option for those who don't quite have the amount of goods to fill an entire container but may not want to share either. Alternatively, this option is also appropriate if the country they're moving to doesn't offer groupage.
Should I trash my belongings when moving overseas?
Finally, when moving, it can be sensible to declutter to avoid bringing belongings that no longer serve a use. In fact, while decluttering, you may even find some items that are worth selling, allowing you to pocket some extra cash for your move. In addition, because shipping costs are calculated by volume, the less you ship, the less you'll be spending. For more information on decluttering, read our blog.
Overseas Packers & Shippers are Brisbane based, experienced international movers with an outstanding reputation. To enquire about your move overseas or to Australia, contact us on 1300 732 686 or visitus@overseaspackers.com.au.