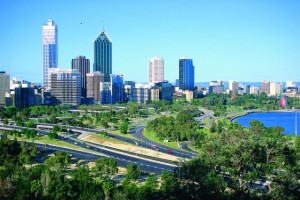 Australia is an extremely multicultural country which encourages controlled immigration from Europe and the US. Today, Australia has become a popular expatriate destination due to its low population density, low levels of pollution and high standard of life. If you are planning on moving to Australia you might be wondering where the most popular places are for expats to live, so we have put together a short list for you.
Perth
Perth is one of the most popular destinations for people moving from overseas. The thriving city is known for having a strong community and being home to a large variety of bird and plant species. It has a warm climate all year round which is perfect for the many beautiful beaches which surround the area.
Fun Fact: Perth was the starting point for many of Australia's internationally recognised celebrities; including Hugh Jackman, Heath Ledger and Tim Minchin.
Brisbane
Brisbane has been a popular place for expat settlement for a number of years now. Brisbane City has a laid back atmosphere and is located near a beautiful countryside and a variety of beaches. Brisbane is well known for it's science and technology research facilities and also fosters a vibrant arts and culture scene.
Fun Fact: Due to its cosmopolitan lifestyle, Brisbane has become known as "Brisvegas". Another name for Brisbane is "Mian-Jin", which is the indigenous name and means "Place shaped as a spike".
Sydney
Sydney is the capital city of New South Wales and is Australia's largest and most densely populated city. Although Sydney is Australia's most expensive city, it is home to some great educational institutions, landmarks, beaches and leisure activities. It has a vibrant night life and is also home to a variety of impressive art galleries. Sydney is a culturally diverse city, which is made up of 4.3% British, 3.5% Chinese, 2.0% New Zealanders, 1.5% Vietnamese, 1.3% Lebanese, 1.3% Phillipinos and 1.1% Italians.
Fun Fact: Sydney's most famous icon, the Sydney Opera House was completed in 1973. It took 14 years and 10 thousand construction workers to build, and at a cost of $102 million it was more than 14 times the originally intended price
Melbourne
Melbourne has been described as blending European style with easy-going Australian vibes. It is a culturally and artistically rich city with hidden lanes, alleyways and great cafés to enjoy. If you are a sporting enthusiast, Melbourne is a great place for you to settle because it hosts world stages in Tennis, Formula 1 and cricket. As well as enjoying the city, you can head to St. Kilda, which is about 30 minutes from the centre by tram, and you'll find that Melbourne is lined with beaches and piers. Melbourne is also home to the famous and historic Luna Park. This park is over a century old and offers attractions for all ages.
Fun Fact: Melbourne was called Batmania, before it was given the name it has today. This strange name was from John Batman, the Australian-born colonist who was one of Melbourne's founding fathers.