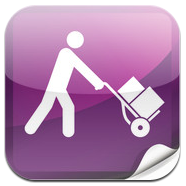 Moving tends to be a very stressful and tedious process for most people, especially when they have to do most of the work themselves. Fortunately, there are apps available right now that will help you with moving. Here are three apps that will make moving to a new country a smooth process for you.
The best way to make the moving process a complete success is by being organized and completely tasks in a timely manner. If you're not used to planning out things, this can be very difficult to do. This is where an app called Moving List comes in.
This app tells you when you need to buy boxes and when you need to rent a truck. You don't even need to add tasks to the to-do list yourself. Moving List pre-populates your moving to-do lists with tasks that are typical when it comes to moving. For example, it includes tasks that have to do with job relocation, transportation, friends and family, movers, and other things as well. You can simply make adjustments to the list by adding things you need to do and removing things you don't need to do.
When you arrive in your new home, not all the boxes are going to unpacked right away. Chances are, you'll only want to unpack the essentials at first and slowly go through the rest of the boxes. The problem is, only unpacking the essentials can be difficult if you don't know what are in the boxes. The app called Moving Van eliminates this problem completely.
This app allows you to label each box and take pictures of the contents of each box. For example, you can label a box as "1" and on your app, you can create a box called "1." Then, you will take a picture of the contents of the actual box and you'll upload it to your app and store it under the box called "1."
If you're moving, chances are, you're probably planning on selling some stuff. Selling your things will ensure that your new home won't become cluttered and it can also get you some extra cash to help pay for the moving process. Also, you can use Craigslist to find bargains on things you need.
While most people are excited about moving into a new home, nobody actually likes the moving process. It's difficult, complicated, and it requires a lot of time and resources. Fortunately, the three above apps can make moving a lot more bearable.