If you're moving to the UK, you need to consider what's best for your transport needs once you arrive in the country. Is it best to ship, rent, or buy a car in the UK, and what are the pros and cons of each possibility? We're going to answer these questions in today's article, so you can make the decision that's right for you.
Ship Your Car
Shipping your car to the UK may seem like an expensive proposition, but in reality, choosing to ship will cost less than buying most new cars. Therefore, weighing up the pros and cons of shipping your vehicle depends largely on what is best for your future purchases.
Pros
The most obvious benefit of shipping your car to the UK is that you get to keep your current vehicle. It's possible that you have built up a sentimental attachment to your car, it's a particularly special make or model, or you have invested a lot of time and resources into outfitting and personalising the vehicle. If any of these circumstances relate to your car, then having it shipped over to the UK means you won't have to part ways with your beloved vehicle.
Having your car shipped is generally cheaper than buying a new car. This means that if your current car is still reliable and likely to function for the foreseeable future, it's probably a more sensible financial investment to ship it over rather than going through the process of selling and buying a new one.
Cons
Shipping over your existing car means you will have to pay for new registration and insurance fees when you move to the UK. These additional costs will also occur with the purchase of a new vehicle, but they still need to be factored in with moving your car to a different country. Cars being imported to the UK may also need to have modifications made in order for the car to be road worthy, such as: changing the speedometer to miles, changing the blinker arm to the left hand side, and installing rear fog light. This is a huge factor to consider as there may be large costs involved in securing the right parts, which may not be readily available for your specific car model.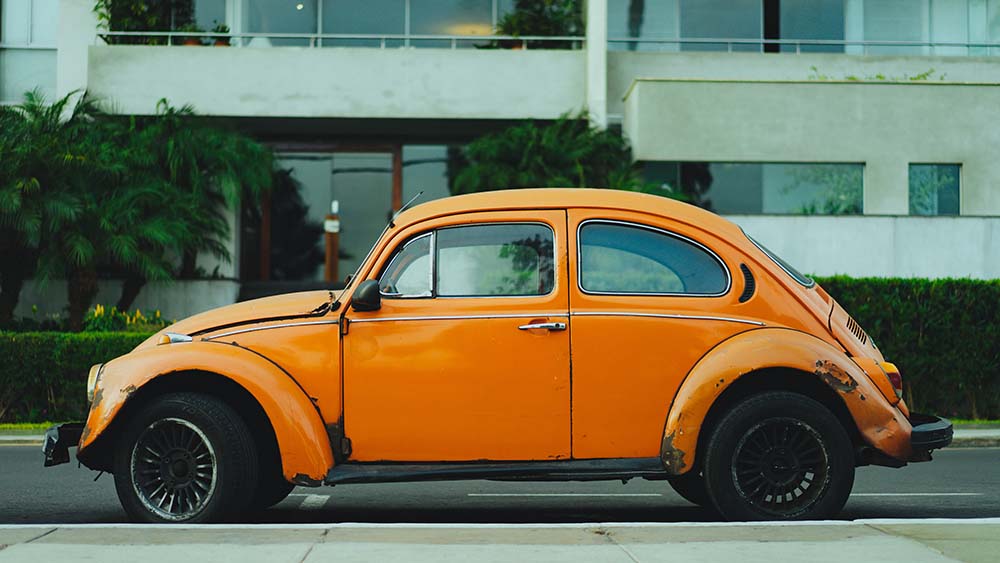 Rent a Car in the UK
Renting a car in the UK may not sound like the most ideal solution for new residents, but for people living in the city, there are certainly cost benefits to hiring a vehicle.
Pros
If you live in the city, where there's an abundance of public transport and transit services, then renting a car for specific travelling is a more financially viable solution than paying the monthly costs of owning a car. Fees such as fuel, parking costs, and tolls can be severely mitigated by only hiring a car for short periods when other transport options don't work.
The same applies to insurance, as paying to insure your hire car will be significantly cheaper than covering the cost of an annual car insurance payment. Renting a car is a flexible alternative for anyone living in a UK city.
Cons
There are some downsides to renting a car in the UK. If you live in any rural regions, or don't have access to public transport, then renting a vehicle isn't a long-term sustainable option. It's important to take good care of hire cars or else penalties will occur. Whether it's damage or going over the mileage limit, it's important you look after your rental to avoid the high cost of repairs.
There's also the fairly obvious, but still important, point that it isn't your car. This means that you can't modify its design or personalise it in any way to suit your personality. You're only ever leasing the vehicle, and this removes any sense of personal attachment.
Buy a Car in the UK
Buying a car in the UK may seem like best route to take at face value, but it is a long-term investment that includes several ongoing costs. However, the benefit of having complete ownership over your vehicle is an enticing notion to many new residents.
Pros
Owning a vehicle means you have total control over how you want your ride to look and feel. Modifications, customisations, and cosmetic changes are all for you to decide and implement. It's your property, so any funds that are put towards the car are working in your favour. Furthermore, you always have the option to sell your car if you want to upgrade.
Cons
Your car will begin to depreciate in value the moment you drive it out of the caryard. This means that, in most circumstances, there'll be no return on investment. There's also the general maintenance and upkeep costs that need to be considered as well as monthly costs such as parking and fuel.
Ship, Rent, or Buy a Car in the UK – What's Best for You?
The answer to whether to ship, rent, or buy a car in the UK depends largely on where in the UK you're moving, your financial position, and what your current transport situation looks like. If you already own a car that is reliable and has personal value, then shipping might be your best option. If you are moving to an inner-city region with great public transport networks, renting is probably the answer. But if you want to invest in your long-term future, buying a car has the most benefits. Each option has good and not-so-good qualities, so assess and research each one thoroughly so that your move to the UK can be as seamless as possible. 
Looking to move to the UK? Get in touch with one of our friendly team members to discuss what's best for you on 1300 732 868.