If you've never moved overseas before, you might be wondering how all your precious belongings make their way to your new home safely. When shipping your goods overseas, there are two different options; you can either hire a shipping container or send your items via air freight. While both options are safe and feasible, there are circumstances where one is going to be more suitable than the other; however, using a shipping container is by far the most cost friendly.
We being an international removalist, have been moving Australians around the world for over 40 years, having packed countless numbers of shipping containers in this time. Therefore, as experts on this topic, we're sharing our guide for all about shipping containers so you can learn more about the process.
Types of Shipping Containers
At Overseas Packers & Shippers, we have two different sizes of shipping containers to choose from: 20ft and 40ft. A 20ft container holds the contents of your average three-bedroom home, whereas a 40ft container is more suitable for larger households or for people wanting to ship their vehicle. You might be thinking "but I don't need that much space?" because we want to cater for everyone, we offer shared container loads and less than container loads for those who don't need to fill an entire shipping container.
Full Container Load (FCL)
A full container load (FCL) is perfect for people who need to utilise the entire 20ft or 40ft shipping container. In a full container load, your goods will be the only goods inside the shipping container, meaning you won't need to share the container with anyone else. As you're using the entire space of the shipping container, this option is perfect for families that have a whole household of items to ship. Once your goods have been packed into the shipping container, our team will send it to the port and prepare it for shipment onto the next available vessel or the country you're moving to.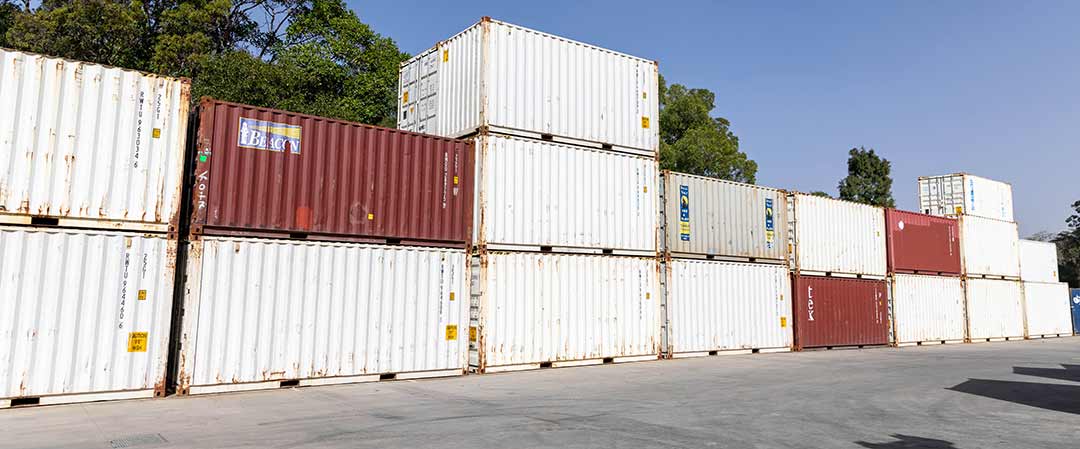 Shared Container (Groupage)
A shared container, as the name suggests, allows you to share the space of a 20ft or 40ft shipping container with others moving to the same country. This is a great option for people who don't have enough items to fill an entire shipping container, but also don't want to fork out the extra money to send via air freight. Another benefit of using a groupage service is that you only pay for the room your items take; meaning that if you take up a quarter of the container, but someone else takes up three quarters – you'll only pay for the quarter.
Once your items have been packed at your home, we bring them to our warehouse and carefully load them into a shipping container and as soon as it's full, we load it onto the next available vessel. When the container arrives at the destination, our shipping partner will unpack it at their warehouse before safely delivering it to your new home. Keep in mind that unfortunately, groupage services are not available for all countries we ship to.
Less than Container Load (LCL)
Finally, a less than container load (LCL) shipment is for those who don't have enough items to fill a whole shipping container, but perhaps don't want to share space or wait for someone to fill the rest of the container. The one downfall of a less than container load is that you're essentially paying for container space that you're not using. However, this is the next best option for countries that don't offer a groupage service.
Booking
To book a shipment with Overseas Packers & Shippers, fill out our quick estimate enquiry form so that we can provide you with a rough quote. From here, we will book in a survey to provide a more accurate quote. Depending on where you're located, we can either visit your home for an in-home survey or conduct the survey via skype. Once we know what items you're taking, we can provide you with a quote for either a full container load, less than container load or groupage.