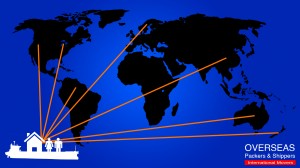 When moving overseas,it's inevitable that you'll be leaving some things behind. It can be overwhelming when you are trying to decide what to take and what to ditch. Here's a few things you might want to remember to make your arrival as fuss-free as possible.
1. Important Documents
It goes without saying that you'll be carrying your passport, but it's also a good idea to keep a few other documents with you too. Print out a copy of your visa and also make sure you have your birth certificate, marriage license, and any other important documents before you get on the plane.
2. Important Addresses and Contact Information
Make a list of any important contact information that you may need, such as the embassy, doctors, and your landlord. This will prove useful if you get in a bind.
3. Plug Adapters
Electrical outlets vary from country to country, so you will need plug adapter to use your current appliances in your new country. These are usually pretty cheap online, so you will want to stock up. Ideally, you should have one for each device you plan to take.
4. Voltage Converters
Voltages also vary between countries, meaning your appliances will not function or may burn up if you try to use them without a converter. Cords with boxes on them, such as laptops or phone chargers, have a built in converter. For anything else, you will need a separate converter.
5. Snacks
Packing some of your favorite snacks in your bag will give you a little taste of home to enjoy while you're unpacking.
6. Measuring Cups
If you're a keen cook or baker, consider the measuring system of your new country. Bring your kitchen equipment or get hold of a metric / imperial conversion chart.
7. Treasured Items
It's easy to get homesick when you're in a new place. Bring along pictures, souvenirs, and trinkets to remind you of the loved ones you left behind.
8. Clothes
One of the fun things about going somewhere new is getting to discover new stores, brands and shopping districts, but what's not so fun is feeling like you have nothing appropriate to wear to visit them! It may sound obvious, but think about the climate of your new country when you're packing – will you really ever need that huge duffle coat?! Pack a mixture of everyday, sportswear, dressy, and formal wear so that you don't have to panic at the last minute trying to find a suitable outfit for an event.
9. Toiletries
If you have a specific product that you can't live without, bring a stash or do a little research ahead of time to make sure it's available where you're going. Once you're settled you'll have time to try out new products and brands but it's worth having something familiar in the interim.
10. Electronics
Depending on where you're moving to and from, bear in mind that DVD players and other gadgets have different regional settings – if you want to be able to watch the movies you brought with you, it's well worth packing devices that you know they can play on.