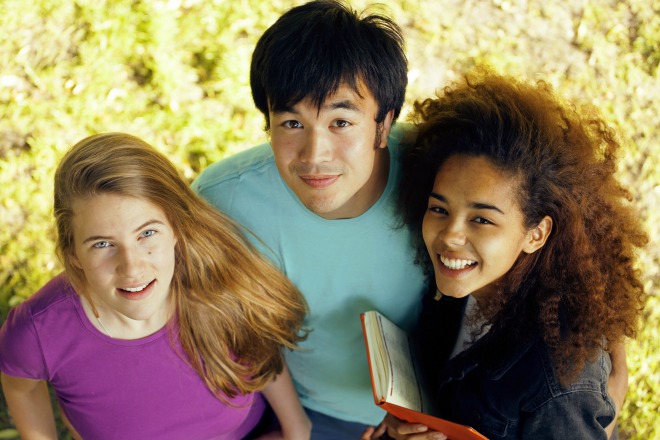 If you are about to move your family overseas, it might be hard to get past all the aspects that feel hard and sad right now. Sure, you might be excited for a new adventure, but your kids might be wailing with the mere mention of the impending move. I know that's how I reacted when my parents told me we were moving from our home town Brisbane to what might as well have been Mars to me. It wasn't Mars. It was Singapore.
I was 13 years old, and had just started my first year of high school in Brisbane. I had made a close knit group of friends very quickly, was enjoying playing volleyball and running cross country. I begged to be allowed to go to boarding school and stay in Brisbane, but my parents weren't having a bar of it. They wouldn't entertain the idea of our family being split up, and assured me that moving to Singapore was going to be really cool. A sure sign that something 100% definitely will not be cool if you're a 13 year old, is if your parents are trying to convince you that it will be. I was dreading the move. I had a big leaving sleepover before I left, where all of my new friends from school and I held each other and sobbed melodramatically. I almost wish we'd had something like Twilight or One Direction, just to distract us from our misplaced hysteria. I collected boxes of memorabilia from all of my friends and swore that we'd always keep in touch, and never forget the good times we'd had. (Spoiler alert: I'm still friends with maybe… 2 of them?)
I'm not going to lie, it didn't immediately get easier when we landed in Singapore. And I didn't immediately think it was cool, either. It was nice and warm all the time though, and we had a big pool, and lived in a nice apartment building, so there were kids my age around all the time. But I missed home a lot, and my friends. I had a few weeks to adjust to living in Singapore before school started. I didn't know anyone at my new school, not a soul. We had an orientation day for new kids before the term started properly. That's one good thing about international schools – there are new kids starting all the time, so it's rare that you'll ever be the new kid for very long.
A girl came to orientation wearing the school uniform, and no one else did. I was so mortified, I immediately gravitated towards her. She was half Swedish, half Japanese, and even though I thought showing up in school uniform when you weren't supposed to would be the most embarrassing thing that could ever happen to a human, Mai was pretty much the coolest person I've ever met, and it didn't seem to phase her one bit. She had been to a bunch of international schools before – her family moved around a lot. That's one thing about third culture kids (that's what we're called), we learn to be super adaptable. She wasn't nervous about term starting on Monday, and even said I could hang out with her and a friend she had at the school who she used to know when she lived in Malaysia. I was in!
The school I went to is called the United World College of South East Asia. I don't want to brag, but it is a staggeringly awesome school. There were students there from everywhere, and I mean everywhere! There were kids from Mongolia, the Netherlands, Bahrain, Canada, Ethiopia, Thailand, Bangladesh, New Zealand – seriously, I could keep going. Everywhere. International schools cultivate their own kind of culture that is a mish-mash of the home cultures of their students, as well as the culture of the dominant media, which in Singapore seems to be a mix of British and American. A lot of people have a kind of hybrid accent, not quite British, not quite American… not quite from anywhere. I remember in my first year at university someone picked which international school I went to just from the way I spoke! Bizarre!
The kind of curriculum you do at an international school varies a lot. It's worth doing a lot of research on this topic, especially if you're moving around a lot, or in the middle of the school year. You want to make sure your kids don't lose credit for all the hard work they've done at one school and have to start from scratch in a new country with a whole new curriculum. I did GCSEs in grade 9 and 10, which are from the British system. Then for my final high school certificate, I did the International Baccalaureate (IB). I am so grateful that I got the chance to do the IB, because even though it was a very demanding program, it taught me a lot about self motivation, as you are expected to drive certain elements of your studies yourself. It was great preparation for university. My whole experience at UWCSEA, but especially with the IB, really taught me how to think critically and not be afraid of asking important questions.
We had so many amazing opportunities at my school, ones I would never have been exposed to at my school in Brisbane. We had school camp to northern Thailand, we regularly had speakers come in from the UN, and once, for a school play our drama teacher had a friend who was the head of wardrobe at the British National Theatre come and design our costumes. I even got the opportunity to take a gap year through my school to go and live in Cambodia for 6 months after year 12. Our teachers were of the highest standard, and were exciting, interesting people who themselves had sought out international adventures and opportunities.
The friends I made at school in Singapore are still among my best friends in the world. We all went to university in different countries, which was sad, but like I said, when you're a third culture kid, you get pretty used to adapting to new and unfamiliar situations. Now whenever I travel, I know people in almost every major city, which also means I usually have a couch to crash on. The downside of having friends all over the world is that it's not very often that we all get to be in the one place. And as people are starting to get married, it's going to be very expensive getting to weddings all over the globe.
All of this isn't to say that I wouldn't have been happy and grown up to have a great life if I'd stayed in Brisbane. I almost certainly would have. The thing that I am most grateful for from my international school education is the way that it expanded my perspective. I know that anything is possible and I don't need to be afraid of the unknown. In the 10 years since I finished high school in Singapore I have lived in 6 cities in 3 different countries, and I have traveled extensively beyond that. Even though it seemed like a punishment in the beginning, I wouldn't change my international upbringing for anything.

Also, the food in Singapore is great.
— Jen Mackie