So you're planning a big move overseas, and you're not sure where to live. You could take into consideration all of the ordinary factors — where is going to be close to your work, close to public transport — but you know you really want to be at the heart of the coolest places in town, which might very well be a little off the beaten track. When you've ventured overseas to live, you're going to want to make the most of it every night of the week. To help you out, we've put together a guide to the hippest neighbourhoods in a bunch of different countries you might be thinking of moving to. Whether it's bars, restaurants, clubs or galleries you're after, you need to have your finger on the pulse to make sure you end up in the coolest part of town.
Tiong Bahru – Singapore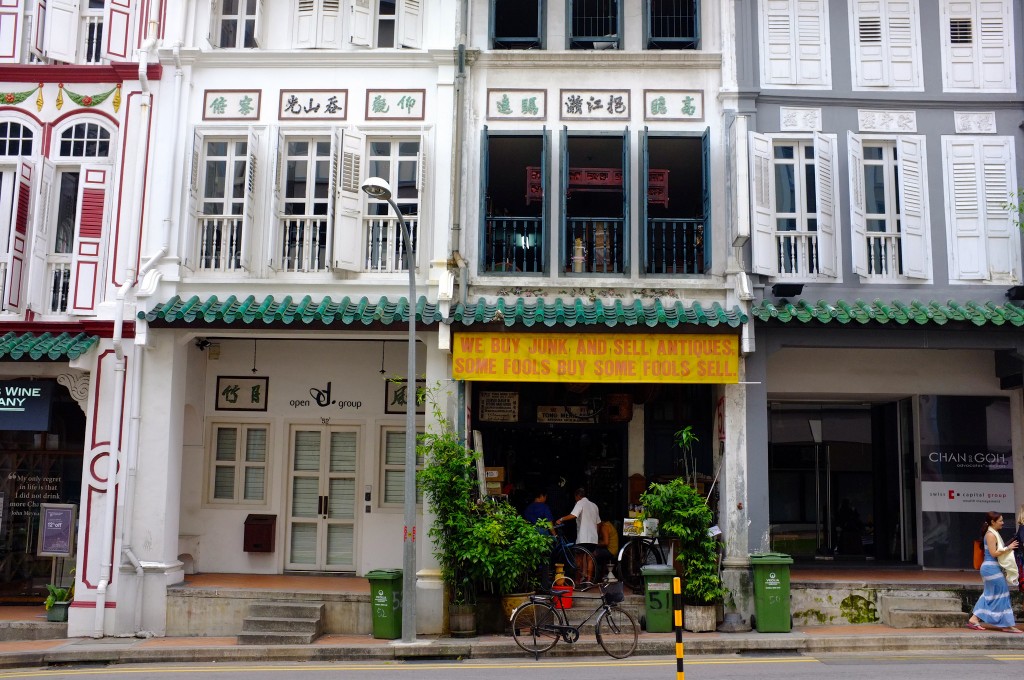 Tiong Bahru. Photo Credit: Premshree Pillai
Tiong Bahru is probably the coolest district in the rapidly changing city state of Singapore. The great thing about living in Singapore is that it's so small and transport is so great that you're never far away from the action, but Tiong Bahru is particularly dense with cool bars, cafes and restaurants serving up both local and international food.
The architecture in Tiong Bahru is the kind of retro that is just starting to come back into fashion, and you'll find houses here that are a bit more like what most locals would live in, rather than glitzy condominiums. There are lots of young expats and locals in share houses around here, and that has really contributed to the community feel and the energy of the area.
Silver Lake, LA – USA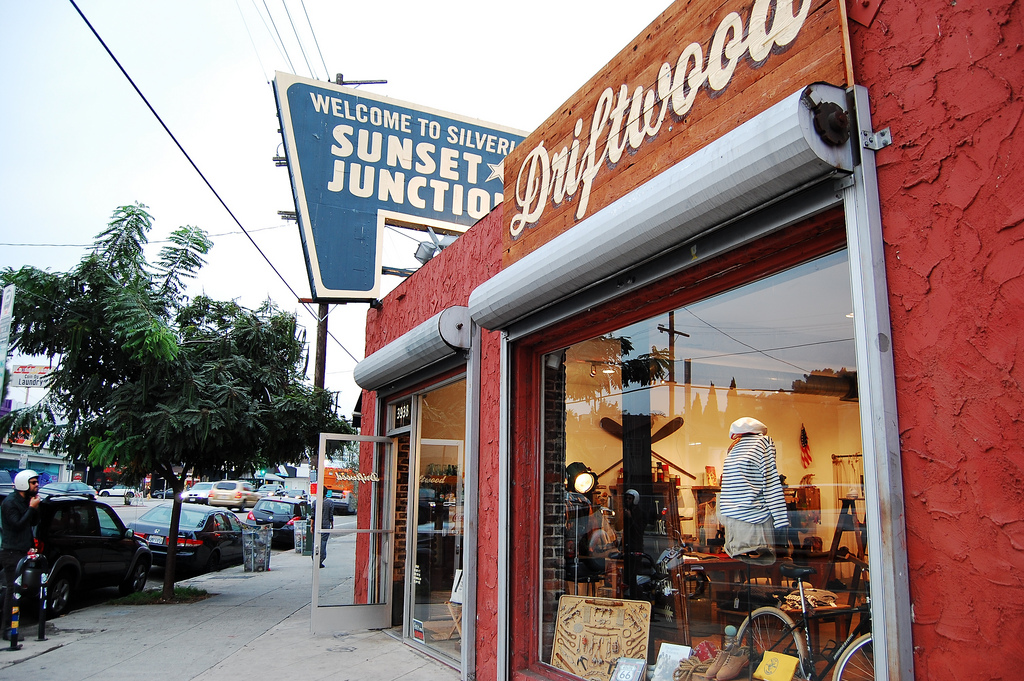 Silver Lake, LA. Photo Credit: Eric Allix Rogers
Unlike other neighbourhoods in LA, Silver Lake is great to walk and cycle around, which is a welcome change from some other areas of the City of Angels. With the perfect combination of shabby chic and sleek modernity, Silver Lake is hipster paradise – but don't mention it to the locals, they're not too fond of being the butt of every hipster joke!
Like any trendy neighbourhood worth it's salt, Silver Lake is chock-a-block with great boutiques, places to get kale smoothies and live music venues. If you feel like putting on your dancing shoes, check out Los Globos, where you can dance til dawn. Since it's cool to eat as local as possible, make sure you check out the amazing establishment Forage which sources much of its produce from backyard farmers in the neighbourhood. If you love a bar that has barely any signage, and is so hidden only the most clued up hipster could find it, you're in luck with the Hyperion Tavern, marked only by a neon barbershop pole. They have super weird, experimental live music acts every night of the week.
Stockbridge, Edinburgh – Scotland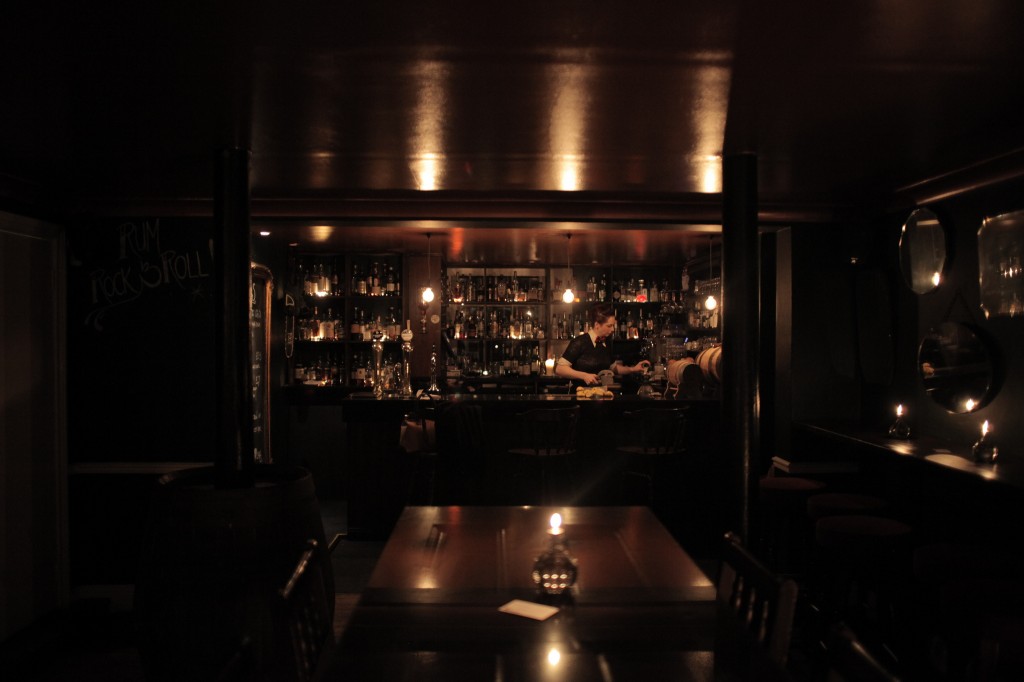 The Last Word Cocktail Saloon, Stockbridge. Photo credit: Edinburgh Yelp Inc.
Cobbled streets, loads of charity shops and the most darling Sunday market in the whole city, Stockbridge is definitely a great place to start if you're moving to Edinburgh. Pop in to I.J Mellis, probably one of the best cheesemongers in the whole world, and then devour your purchases in one of the gorgeous gardens in between the streets, or wander by the Water of Leith in Dean Village.
Edinburgh is only small, and there are so many beautiful areas of town, but Stockbridge feels like just the right combination of old and new. You'll see plenty of people cruising around on bikes, even though it's a pretty hilly place! Snuggle up with a whiskey (and don't call it scotch!) in one of Stockbridge's many pubs, and grab a classic cocktail at The Last Word Cocktail Saloon, where the bartenders are truly world class. If you're after a proper Sunday roast, you can't go past Hectors, who do the whole spread: bloody Mary's, Yorkshire puddings, you can even bust out some board games!
Hackney, London – England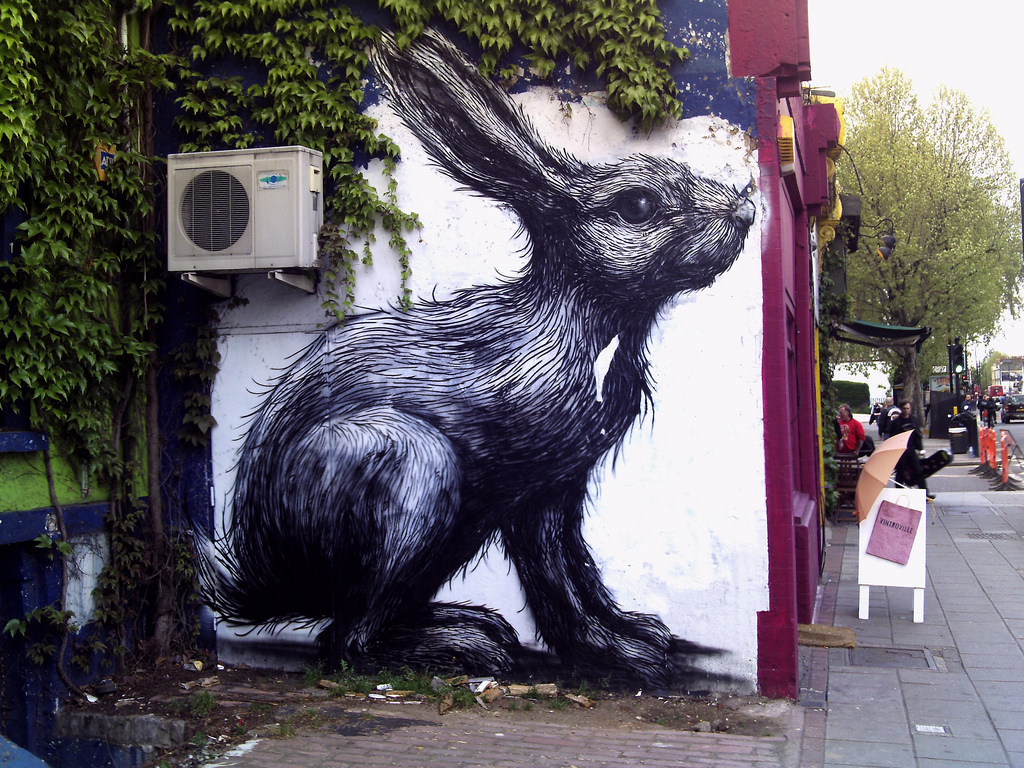 Hackney Street Art. Photo credit: Conor Cotter
Hackney might look a bit grubby, but the rapidly rising house prices around here will let you know that you are well and truly in Hipster-ville! Having said that though, it is a relatively affordable part of town compared to other areas in London. With performance art happening in the parks, and a boutique shopping mall made of shipping containers, this truly is a creative hub of activity within one of the creative meccas of the world. Take in an indy film at the gorgeous art deco Rio Cinema, and if you're wanting to treat yourself to one of the best steaks in London you can't go past Hawksmoore Spitalfields.
Every Saturday you can wander through the Broadway Markets and buy some artisan cheese or homemade pies to enjoy while sitting on the grass in London Fields (as long as it hasn't been raining too much!). And when the sun goes down, grab some yummy chicken wings and some causal cocktails at Off Broadway. The best thing about Hackney is that there is always something going on! Never a dull moment, so keep your ear to the ground and your finger on the pulse and you could be out and about at an art installation or fashionable party every night of the week.
El Raval, Barcelona – Spain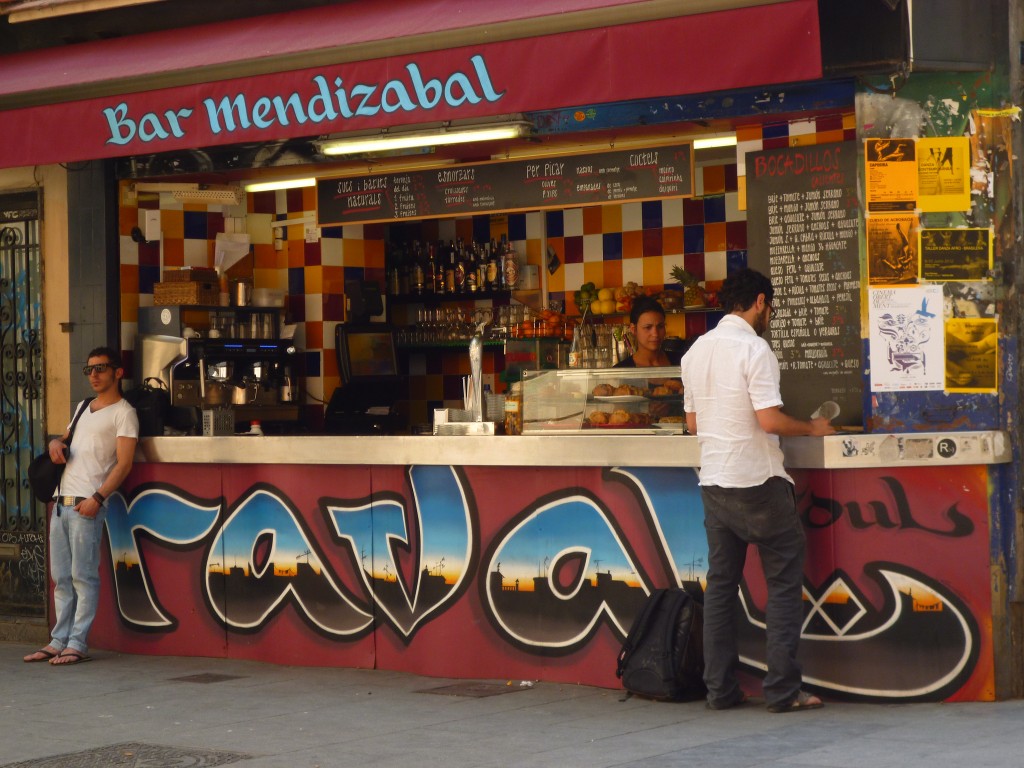 Raval, Barcelona. Photo Credit: Oh Barcelona
El Raval might not be the safest or cleanest area of Barcelona, but it is certainly one of the most exciting! It is vibrant and full of history, but it used to be a total no-go zone for tourists. Now, however, you won't be out of place strutting down the cobbled streets in your skinny jeans as you head to Cassette Bar for a drink and a dance. And why not check out the London Bar which was frequented by the original hipsters: Salvador Dali, Picasso and Hemingway!).
Take in some culture at the Museu d'Art Contemporani (MACBA), which is sure to have an amazing exhibition no matter when you arrive in town. If you move into this neighbourhood you'll never be wanting for more vintage fashion options purchased from shops like Holala! who have been in the game for over 40 years.
And when you're living in Barcelona – don't forget Spain starts late at night. No going out until at least 10pm, or you'll look like a total tourist!
Hongdae, Seoul – South Korea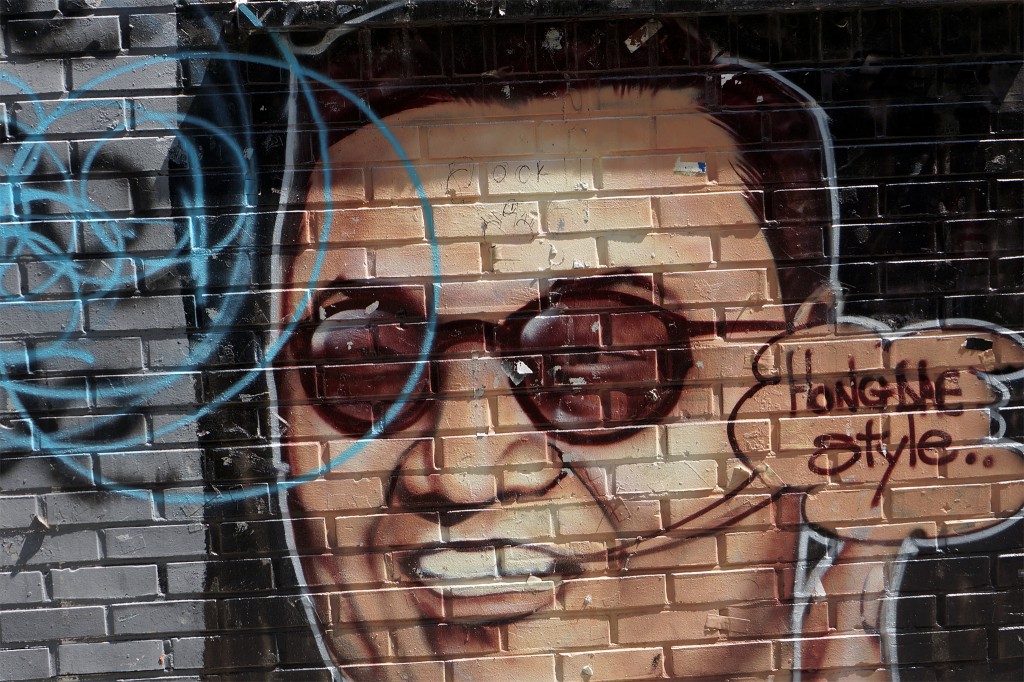 Hongdae Street Art, Seoul. Photo Credit: Longzijun
Hongdae has found a blissful balance between being super hip and chic and not being pretentious or arrogant. It's a really welcoming neighbourhood and the fashionable young people who swan about the trendy establishments are genuinely friendly. There is loads of cool street art for you to explore and this area isn't packed with expats – so you'll still feel like you're in Korea not just back at home! There is a crazy art gallery called Trick Eye in Hongdae, which is going to give you amazing fodder for your instagram account, where you get inside famous paintings and wicked optical illusions.
In terms of nightlife, Hongdae really is the soul of Seoul! In the warmer months plenty of people spend their Friday nights just buying some drinks from the convenience store and hanging out in the parks, crowded with indie bands playing, rappers spitting some rhymes and other types of street performers trying to get noticed. The whole music park takes on a kind of unofficial festival vibe. Check out Xylophone Bar to get a taste of some of the more exotic versions of Korea's national liquor soju. In classic Seoul-Kitsch style, Xylophone Bar serves their soju from a gas pump! You will also have to get into special Seoul-style Karaoke, or Sing Rooms, where you can sing your heart out. Lots of places have food and drinks for while you're doing your best Celine Dion impression, and at some of the more alternative Sing Rooms in Hongdae you can even wear funny costumes! Embrace it, you're a true Seoul-ite now!
Sodermalm, Stockholm – Sweden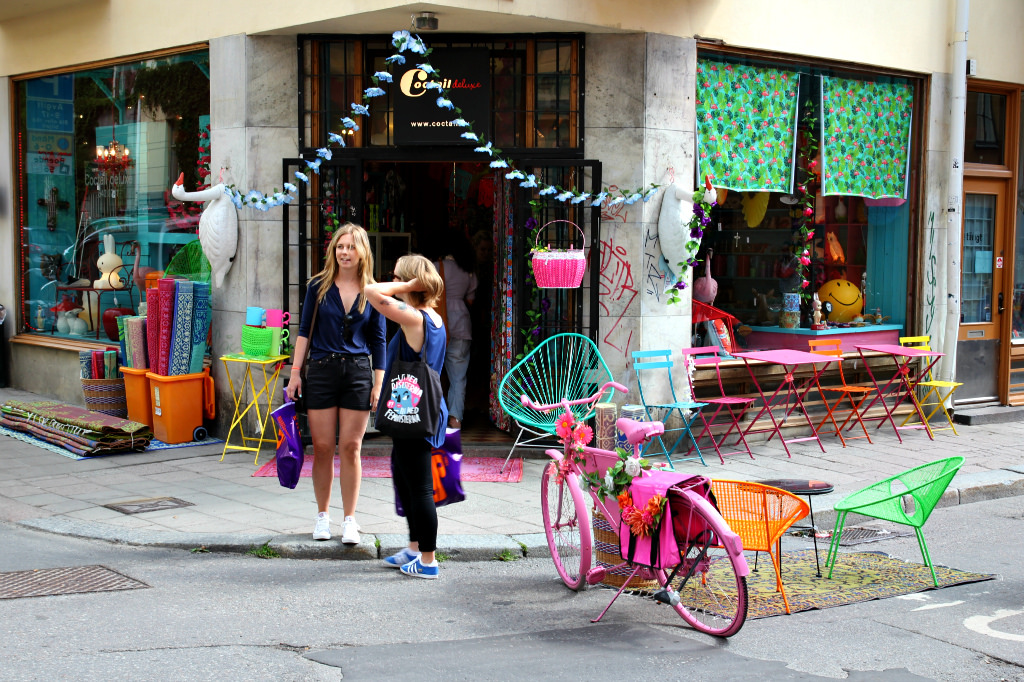 Sodermalm, Stockholm. Photo Credit: Gunilla G
If you want to sound like a local you'll start calling this undeniably cool neighbourhood 'Soder' immediately. During the long Summer days, you can take an innercity dip in Langholmen Beach. If you're looking for a big night out take a visit to the Kvarnen, a local favourite for Swedish beers in the most spectacular setting – a beautiful historic old bar that has been around since 1908. You don't have to stumble far if you're wanting to dance, because they have their own nightclub in the basement.
The Scandinavians are well known for their love of simple and sleek design, and the Swedes are no exception. You'll be amazed by the proliferation of contemporary art, architecture, craft, design and fashion offerings in Sodermalm, and a great place to start is Konst-ig, the largest independent art bookstore in Scandinavia.
Florentin, Tel Aviv – Israel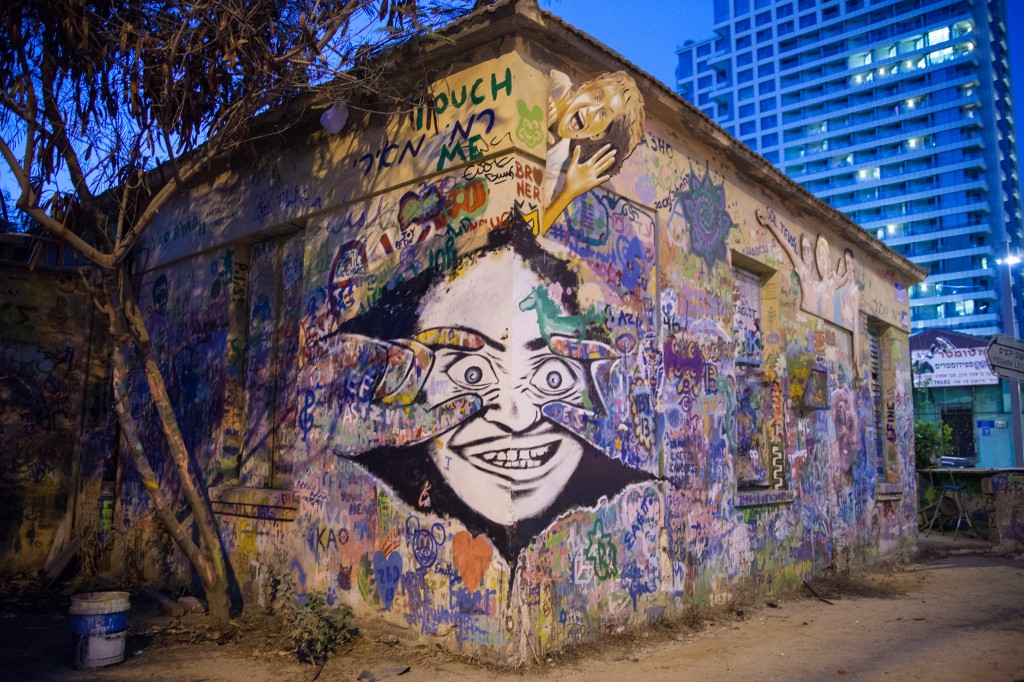 Florentin, Tel Aviv. Photo Credit: Annaspies
Florentin has been compared to Brooklyn, New York but with fewer Orthodox Jews! Some of the best bars and cafes (the lifeblood of any hipster neighbourhood) can be found in the grungy area of Florentin. Not unlike cool areas in cities around the world, Florentin used to be an industrial area, and while there are still lots of furniture workshops, it's now mostly 25-35 year olds who are living in the converted warehouses and shop houses. Also being one of the most gay friendly cities in the Middle East, Tel Aviv has a thriving LGBT culture. The counter-culture is strong in Tel Aviv, not least of all at Anna Lou Lou, a bar co-owned by Arab and Israeli hipsters, where you can dance to vintage Arabic music.
A lot of bars in Tel Aviv will sell you a deal where you can buy a bracelet for a fixed price then drink as much as you like, all night long. One such bar is the crazy cool Hamezeg, which is always packed full of locals and visitors who are all up for a firey conversation and a dance. Florentin is an area with lots of people living in it, but blessedly few high rise apartment blocks, so it really has a great villagey feel to it – although as with any hipster neighbourhood, this is changing rapidly as the area gentifies.
Shimokitazawa, Tokyo – Japan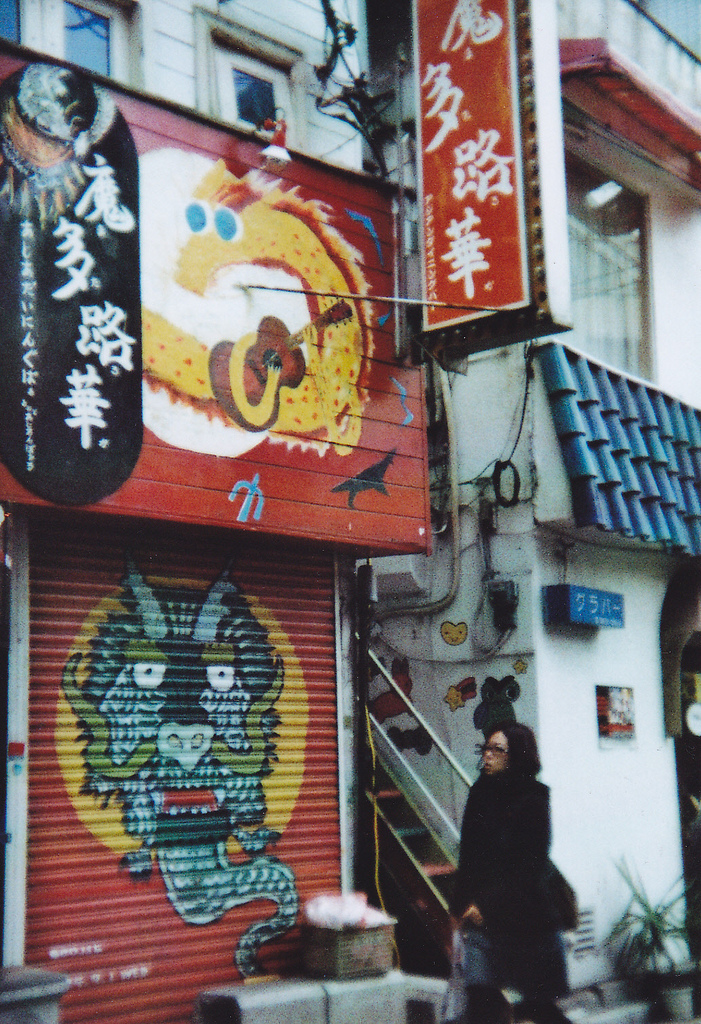 Shimokitazawa, Tokyo. Photo Credit: Megi
In a city where you can hardly move without bumping into something cool, quirky and undeniably hip, Shimokitazawa is among the coolest neighbourhoods in Tokyo. With so many characters walking around, and such cool old architecture, Shimokita (as it is known by the locals) is a photographers delight.
The streets aren't as busy as they are in the more touristy area of Shibuya, so you can take some relief from the hustle and bustle that Tokyo is known for. You'll also find some great bike shops in Shimokita, like Shimochari, who craft their own Califormia-style bikes. Izakaya is a term you'll probably become familiar with as soon as you move to Japan! It refers to a casual eating and drinking spot preferred for after work. Shirubei is a great Izakaya option in Shimokita and is often so packed you'll have to wait in line to get in – so you know it's good!
Sheung Wan – Hong Kong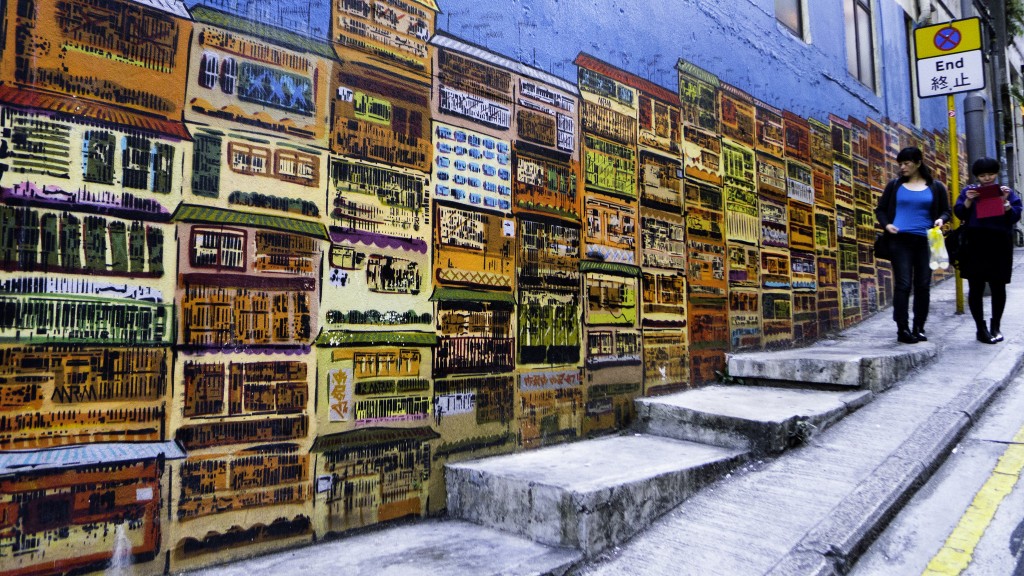 Sheung Wan, Hong Kong. Photo Credit: Esther Park
Hipsters and foodies are different subcultures, but we know there is a lot of crossover between them. If you are a hipster-foodie, then you will be in your element in Hong Kong's cool neighbourhood Sheung Wan. Check out the ultra-cool Mrs Pound, who are combining western style cooking with contemporary asian dishes from around the region. In true hipster style, their shop is disguised as an old traditional stone sealing shop. The architecture in Sheung Wan is super old school, and when you walk through the bustling streets you'd be forgiven for thinking you'd stepped back in time. The rent (while it is climbing) is substantially cheaper in Sheung Wan than in other more built up areas of Hong Kong, and the feeling is much more that of a community or village than in other neighbourhoods. Take a look at the one-seat hair salon called Visage One, which turns into a cool lounge jazz bar at night.
Sheung Wan is known for it's cool cocktail bars, like Heirloom Eatery and 208 Duencento Otto. You'll probably also notice a gaggle of good looking hipsters standing around waiting outside one unassuming establishment any night of the week in Sheung Wan. That's the famous no-reservations restaurant Yardbird, the Japanese Gastropub, serving Bloody Kim Jong Il's, a bloody Mary spiked with Kim Chi!
You'll never get bored of the shopping in this area either, because there are so many trendy pop-up shops that are changing all the time. Sheung Wan is full of interesting boutiques, not just the high end stores you'll find in other areas of Hong Kong, and there are lots of artisan crafted homewares and lifestyle stores like Konzepp.
If the city you're thinking of moving to doesn't appear on this list, there are easy ways of finding the coolest area in town. Try searching for expat blogs from that city. AirBnB have also recently launched some amazingly comprehensive neighbourhood profiles for some cities. If you know what is most important to you in the area you live — like cafes, cool bars or boutique shops — start by finding out where those are in town, then that will be a good place to start researching.