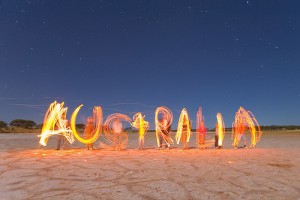 It may be too late to book an international trip for Christmas at a reasonable price, but if you want to get away there are plenty of great Australian destinations to choose from.
City Excitement: Sydney, NSW
Sydney is a popular destination even when it isn't geared up for the festive season. Whether you want to see a family concert, do some Christmas shopping or hang around for the impressive New Years fireworks display, Sydney is a great place to spend the festive season.
An Australian White Christmas: The Whitsundays
Sadly the Australian climate doesn't allow for a snowy white Christmas, but we do have some impressive white beaches. With it's snow-white sand and crystal clear water the Whitsundays is an absolutely gorgeous place to spend Christmas with your loved ones.
Carols by Candlelight: Melbourne, VIC
Carols by Candlelight is a popular Australian tradition that has spread across the globe. What better place to enjoy this tradition than in Melbourne, the city that popularised the event in 1937!
African Safari in Australia: Werribee Open Range Zoo, VIC
If you want to experience an African Safari a little closer to home this festive season, the Werribee Open Range Zoo Slumber Safari might be just what you are looking for. Whether you want to get away with your partner, family or friends, this overnight experience will be a memorable one.
Get in Touch with Nature: O'Reilly's, Lamington National Park QLD
Located in the picturesque Lamington National Park, O'Reilly's offers sub tropical rainforest walks, a wide range of animals and birds and accommodation with magnificent mountain views. If you are a little tight on cash you may like to book accommodation off the mountain and drive up for the day.
Beachside BBQs: Byron Bay, NSW
Byron Bay is known for it's beautiful beaches and laid back lifestyle. If you are keen for a beachside BBQ with your family or friends this Christmas, this is the perfect place to do it. If you want to camp and it is already booked up you might like to try heading south to Lennox Head or north to the small town of Kingscliff (both great beach destinations).
A Historical Christmas: Tasmania
Tasmania is an amazing place, rich with history and world heritage sites. If you wanted to go overseas for a historical holiday this Christmas but missed out, you can have your holiday closer to home with the historic villages of Tasmania.
Nature, Wildlife and the City: Perth
If you would like a city and nature experience this Christmas you might like to consider going to Perth. With a range of wildlife, nature and national parks all in close driving distance to the city centre, you can enjoy the great outdoors and the city in the same day.
A Bronze Christmas: Gold Coast
Want to work on your tan this Christmas? The Gold Coast is always buzzing with tourists and locals in holiday season throughout the day and into the night. Lull about in the pristine creeks at high tide, hit the surf to catch some waves or head to the theme parks for some blood pumping action.
Go Camping: The Blue Mountains
Get out in the great outdoors this holiday season by taking yourself and your family or friends to the Blue Mountains for a camping trip. This is a great choice if you want to get in touch with nature and enjoy waterfalls, breathtaking lookouts and the local wildlife.
If you didn't quite get around to booking an overseas Christmas trip this year, don't be disappointed! There are a wide range of exciting and beautiful places to spend the festive season in Australia.